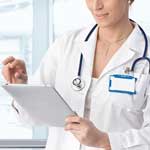 Our Visi-Trac™ solution for enterprise and healthcare asset tracking was developed on real-world projects with our clients tracking fixed and mobile assets, such as medical supplies, cardiac stents, laptops, tools, files, works of art and voting equipment. Visi-Trac is also used to monitor sealants and adhesives in aerospace manufacturing. Whatever assets and property you manage, RFID Global Solution can find it and track it, whether 'within four walls', within zones or in-transit.
The Visi-Trac Asset Tracking solution is ideally suited for:
Corporate Assets
Visi-Trac provides location awareness and property attributes for accountable property such as office furniture, IT assets, peripheral devices, and other mobile assets within an enterprise.
Files and Documents
Visi-Trac acts as a real-time, vault records management system to help find stored files fast, keeping track of received, stored and shipped files, using the convenience of a portable, RFID-enabled SmartCart™. File retrieval and periodic inventory of files in storage facilities can be time-consuming and tedious. Visi-Trac enables every box and file to be located immediately within a storage facility and provides proof of delivery and verification of return to filing location.
Healthcare Assets
Visi-Trac for Healthcare was designed to track patient flow, staff, medical supplies, instruments, and medical equipment throughout a hospital or defense medical facility. Visi-Trac has been deployed for goods receiving, for cardiac product tracking, and for dispensing defense medical supplies, among other healthcare applications.
High Value and Fine Art Assets
Visi-Trac assists in the conservation, security, transportation and storage of valuable art, antiques, collectibles and other high-value assets. Visi-Trac has been customized to meet the needs of Auction Houses, Art Moving and Storage companies, Museums and Collectors. Click here to learn more about our ArtTrac offering.
Retail Item Level Inventory
Visi-Trac has been deployed to track retail goods receipt at distribution centers, and can be deployed to track retail merchandise or apparel at the individual item level. Visi-Trac is designed to work in conjunction with our Visi-Trac Mobile and Visi-Trac Cloud Services offerings to provide a seamless environment for managing store floor and distribution center inventory.
Tools and Equipment
Visi-Trac tracks tools, equipment and assets used in production facilities and safeguards against loss. Visi-Trac enables tools to be quickly located when needed, tracks who tools are issued to and when tools are returned, helping ensure the right tools are available at the right time. Handheld and truck-mounted readers can perform inventory searches for specific items or misplaced tools. Visi-Trac enables our clients to track mission-critical tools, reduce man-hours spent on tools inventory, and ensure that no tools or equipment are left behind.
Visi-Trac enables visibility of assets within storage yards or on construction sites, enabling quick location of outdoor inventory. Whether its granite slabs, heavy equipment mats, engine parts or automobiles, Visi-Trac helps you find your assets when you need them. By RFID-enabling your assets, vehicles and staff, you can find the right item to fulfill an order, monitor movements and control automated access to and from storage lots. Visi-Trac helps optimize asset utilization, depreciation and customer billing cycles.
Voting Equipment
Visi-Trac was designed to securely track ballots and voting equipment transportation bags as they move from voting locations to central precincts. Click here to learn more about our SecureVote solution.